Mad Mexicans in the studio!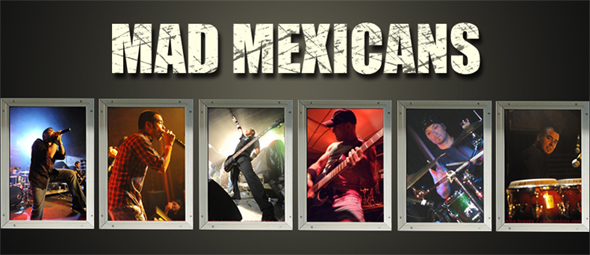 03-27-2012
Just when you thought the Mad Mexicans were broken up, retired, or locked up. Well rockeros, MM has been busying recording new studio tracks which will be featured on the upcoming Mad Mexicans Live album. The Live album is due for release in May 2012. Details coming soon…..
Next show is Saturday March 31, 2012 at Trees 2709 Elm St. , Dallas , TX www.treesdallas.com. Come party with us!!!
Click on link to listen to the two new studio tracks, "Empty War" & "Rise Above".
Request Mad Mexicans on :
The Edge 102.1 FM
the Local Edge Show w/ Mark
Sunday Nights, 11p – Midnight.
email: mark@kdge.com
KEGL 97.1 FM
Loud & Local w/ Angela Chase
Mondays, 11p
email: angelachase971@hotmail.com
03-12-2011
Free tickets to any Mad Mexicans show courtesy of Mad Mexicans!!!
Spend $25 or more at the Mad Mexicans' store and receive a free ticket to any Mad Mexicans show courtesy of Mad Mexicans. The store has everything from shirts to CDs to stickers. Click on the "STORE" link or CLICK HERE to start buying your Mad Mexicans merch so you can represent. For more details contact: booking@madmexicans.com